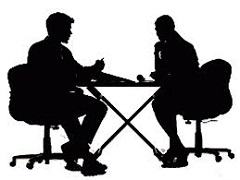 By learning the techniques of interview, you are strategically and intelligently positioning yourself to be hired at any job anywhere and anytime. Here are simplified and codified tips you must master.
Be Prepared: Gather all the documents that you may need; your resume, reference letters, project portfolios, samples of your work or achievements based on position applying for.

Get enough information and knowledge about the area and the institutions you are applying to. I was asked to write an impromptu easy during my interview at Bank of Africa-Ghana, it can happen to you so prepare.

Don't forget that your appearance should be appropriate for the vacancy of your interest and the company.

Don't wear red and white (Vodafone colors in Ghana) when going for MTN interview.

The selection process begins as soon as you land at the interview premise. Mostly, you are being monitored through CCTV cameras, so comport yourself.

Learn how to use Skype; most companies use that tool of late to conduct interviews and remember to be official as usual.

Be confident. Here are the ways I trigger my confidence: I make positive confessions or Self-talk: speaking the great things about me aloud and pass achievements before the interview. This helps me to boost my confidence. Mohammed Ali; the greatest box, always maintained his supreme confidence by shouting "Am the greatest" before a fight. Additionally, I listen to my favorite songs to psyche myself. Moreover, body languages and posts also influence your confidence. Watch how you post when making a presentation or answering questions and sitting during the interview. People are branded confident when they raise their hands high in responses to general questions.

Be natural, open-minded, and conservation as possible and be coherent; this helps you to gain more control through the interview process. It's okay to use phrases like pardon me, come again, excuse me etc. Sometimes, but too much usage is boring and displays inattentiveness. No interviewer is impressed with "highly rehearsed chew and pour" kind of answers. This is how I usually answer questions boarding on my uniqueness; I am easy to be corrected, quickly adapt to positive changes and situations and quick to follow instructions. You don't have to repeat instructions to me.

Note, today's employer does not waste his/her precious money on someone who is doing nothing and staying one for the past 6 months. That jobless folks are unambitious and retroactive. They say if the dude is serious; he'd volunteer for a company, church, community project or NGO to build his capacity. There is no security in idleness so cancel that check during an interview. Go get something to do.

Young interviewees only answer questions; mature ones end interviews with questions.
Never forget these 3 questions if you want to be noticed and hired.
1.

What skills and experiences would make an ideal candidate?

This is a great open-ended question that will have the interviewer put his or her cards on the table and state exactly what the employer is looking for. If the interviewer mentions something you didn't cover yet, now is your chance.

2.

What constitutes success in this position and this company?

This question shows your interest in being successful there, and the answer will show you both how to get ahead and whether it is a good fit for you.

3.

Do you offer team capacity building and professional training?

This is a great positioning question, showing that you are interested in expanding your knowledge and ultimately growing with the employer.
I wish you well in your next job interview. Am willing to give a free ebook on how to answer interview questions appropriately if you email me: This email address is being protected from spambots. You need JavaScript enabled to view it.
Schandorf Adu Bright is a leader, motivational speaker, change agent and columnist. Currently, he is the Value Chain Director at Farmerline Ltd, a technology and content provider company based in Ghana. Schandorf is also the CEO of Golden Minds, a consortium that organizes Youth Entrepreneurship Summits, such as YES, aimed at building strong networks of young leaders, innovators, change makers, doers and entrepreneurs. Prior to Farmerline Ltd and Golden Minds, Schandorf worked at the Bank of Africa- Ghana.

Schandorf holds a BSc in Natural Resource Management from the Kwame Nkrumah University of Science and Technology. As a Students' Leader, he served as Faculty President, a College and Faculty Board Member, and an SRC Parliamentary Member. These experiences have highly contributed to Schandorf's ability to lead and inspire.

From his humble upbringing, Schandorf has learned that no vision should have limitation. With a team of passionate young leaders and change makers, Schandorf has widely communicated this concept, inspiring over 10,000 senior high school and tertiary students through training workshops on career guidance, leadership and job creation.

As a columnist, Schandorf has also engaged, shaped and challenged thousands of readers. Popular topics including good governance, efficient use of natural resources in Africa, impact through social media and sexual health