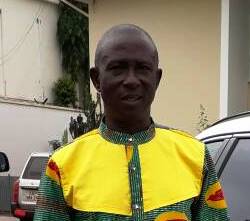 The Municipal Chief Executive (MCE) of Berekum has suggested that the central government should consider establishing a cannery for his people under the One district One factory policy.
"I will be pleased with a cannery because my municipality has an arable land for the cultivation of crops like cashew, maize and vegetables. Berekum is now turning into a tomato-growing-hub especially in Fetentaa, hence I will be glad if we get a vegetable and fruit cannery here" he said.
Mr. Adjei admitted that due to lack of job opportunities in the area most of the youth have started abusing drugs while others have engaged in Cyber Crime popularly known as "Sakawa". He observed that his outfit has mounted a plan that will deal with the abusive drug sales joints within the shortest possible time to curb the menace. On the issue of Sakawa, he posited that his office is collaborating with the municipal security council and the appropriate security quarters to map up strategic plans to combat such a denigrating vice.
"I am aware of government's intention to establish a Cyber Crime Security Centre which will eradicate cyber crime in the country, and my office will do everything possible to ensure that our municipality becomes Cyber Crime free as we create enough jobs for the youth" he said.