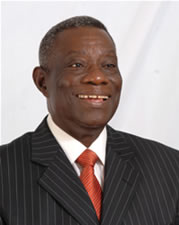 Prof. John Evans Atta Mills passed away yesterday, 24th of July 2012, at 14:15Hrs GMT at the 37 military Hospital after he had been rush in around noon.
President Mills was sworn in as the President of Ghana on 7th December, 2011. He is the first sitting president to have died in Ghana.
The country witness one of the saddest times in its history. The late president celebrated his 68th birthday last Saturday, 21st of July 2012.
The people Berekum received the news as a great sock with many crying and others wondering, why this sudden calamity?
Per article 60 of the Ghanaian constitution, the 'vice president', John Dramani Mahama becomes the president and was sworn in by the Chief Justice, Mad. Georgina Wood, at the parliament house in about 6 hours after the death of the learned Professor.
The new President of Ghana, President John Dramani Mahama gave his first address, which lasted 4min 19sec to the nation, declaring a state of national mourning with all national flags flying half high for a week
President Mahama held his first cabinet meeting today and proceeded to console the wife of the late John Evans Atta Mills, Mrs Naadu Mills at her residency at the Regimanuel Estates.
President Mahama is yet to name his vice president.