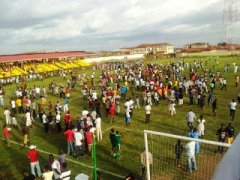 Berekum Arsenal preserved their premiership status as drama unfolded on the final day of the Glo Premier League.
At the Berekum Golden city park, Jets appeared to be coasting to victory after taking the lead in the 74th minute which handed them hope of being secured in the premiership next season, after Hearts of Oak had defeated Berekum Arsenal 4-0 in Accra.
In added time , Alfred Arthur struck hard a freekick into the net to hand 10-man Chelsea a share of the spoils which condemned Jets into relegation alongside Bechem United and Wassaman.
After the final whistle, Arsenal players looked dejected until news broke that Chelsea had rallied back to draw 1-1 with Jets. And their jubilation surpassed what fans of Hearts of Oak had exhibited.
It was a spectacular scene at the Berekum Golden city park as fans carried Alfred Arthur alongside Alhaji Yakubu Moro, chairman of Berekum Arsenals.